Vertical Lifter
Vertical Lifter, with pallet as its storage unit, delivers palletto operator or suitable place with the horizontal and vertical movement of the extractor. Adopting absolute position in vertical movement, the equipment can locate accurately; adopting inductive switch control in horizontal movement, ensure movement of the mechanism. Height detection sensor at the retrieval measures article heights to store them at approprite location, realizing article being brought to the operator but not vice versa.
Vertical Lifter has such operating modes as hand-motion, stand-alone automation, and online automatic operation. The manage system can be connected with ERP and MRP. Compared with Vertical Rotator, Vertical Lifter is more suitable for storing the articles in defferent size and odd shape.
Working principle
Application
Network
Customer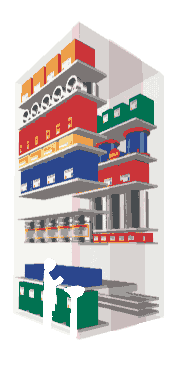 The Vertical Lifter is both storage efficiency and goods protection in one: at the center of the "cabinet" is a computerized lifting called the " extractor ".
In front and behind it are the storage shelves. This is where the articles are stored in containers.
The storage locations are accessed through electronic control by the extractor. It stores or retrieves the container requested. The system is operated comfortably at the optimum ergonomic height at the retrieval zone.
---
Advantages
Operate automatically, easy to store or get articles. The articles are brought to the operator but not vice versa, the cycle times can be reduced;
Maximum use of the available floor space;
Realize net working administration, improve response time;
Preferable security protection functions;
The equipment is close, avoiding the invasion of dust and sunlight, and unauthorized access efficiently;
Multistage password management;
With the function of FIFO;
Cab be operated manually or automatically stand alone or on line;
Provide more selections for customers, the equipment can be made under the request of customer;
Compct conformation, accurate control, less power consumption, suitable for storing articles in defferent sizes;
Auto-height detecion, store appropriately, improve space utilization;
Optimize space in equipment automatically;
Rinning more steadily, faster & more reliable;
More durable, heigher bearing capacity;
Load per pallet up to 1t, load per vertical lifter can reach 60t;
Height could reach 20m;
Vertical lifter can be combined over several floors, the retrieval can be set at defferent floor under th request of customer.
Vertical Lifter is mainly used to store tools in processing center and kings of medium-small sized mechanical spare parts, as well as electron elements, medical apparatus and instruments, and medicines, food, files, documents, disks, magnetism medium, etc.
The software part is a warehouse management system WMS divided into standard stand-alone edition and network edition. Standard edition can realize common warehouse management process required for a variety of functions, at the same time can receive bar code input and convenient data acquisition; online version in addition to the standard edition of the complete function, with the enterprise MRP, ERP, SAP and other management system connection. Because the system is my company stand on one's own R & D, so it can be customized according to customer requirements, customized.