Intelligent Boxed Pharmacy Dispenser -In-Box Series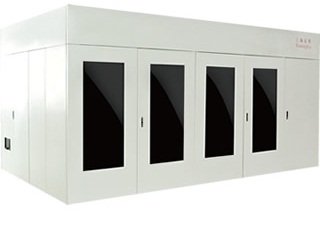 Intelligent boxed pharmacy dispenser is an automatic fully equipment developed according to our actual situation of Chinese pharmacy, with high-performance. It can be operated conveniently and rapidly.
Intelligent Boxed Pharmacy Dispenser takes series standard size of runners as storage unit for boxed medicine, utilizes the gravity of boxed medicine combined with exact medicine retrieved mechanism to take out medicine, is equipped along with a set of intelligent robot accurately and rapidly to fill medicine, thereby it manages efficiently medicine filled rapidly, stored and retrieved complied with the prescription.
---
The system is made up of three sections as follows:
Filling System

Filling System adopts robot and bar code scanning system to realize fast filling of large quantities medicine, up to 2500 boxes/hour.

Storage System

Storage System fastens intensively by series standard medicine runners, combines with the computer's accurate reservoir monitoring, and manages the temperature in storage runners constantly to realize the safety management in large quantities.

Dispensing System

Dispensing System retrieves the medicine by retrieved mechanism cooperated with the "Lifter" controlled accurately, and then dispenses medicine as prescription once. It greatly improves the pharmacy's dispensing efficiency.
---
Advantage
Greatly improve the pharmacy's dispensing efficiency;
Greatly reduce the tedious of dispensing;
Realize the medicine's FIFO, improve medicine's effectiveness;
Reduce prescription's error rate;
Enhance the pharmacy space utilization;
Upgrade the safety protection function of medicine;
Improve the inventory management functions of medicine.